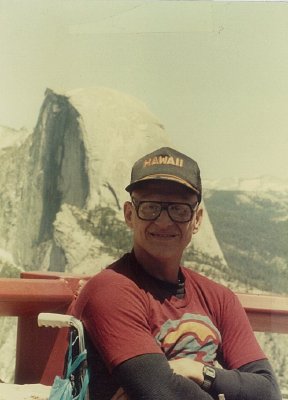 Ralph Boemio had a zest for life which made him work and play hard, harder than his able-bodied friends could match. He worked for years as a computer programmer with the UC Office of the President, inventing ways to overcome his physical limitations. He seemed to enjoy everything he did, and tackled all challenges that interfered with that enjoyment.
Ralph's employment with the University of California broke a long-standing stereotype that those with Friedreich's ataxia (FA) could not hold jobs. With a median age of death of 35 years, few people with this illness seek employment, and even fewer businesses are willing to provide opportunities for employment. Ralph's brilliance and determination to be productive — along with the leadership of the University of California and encouragement from the disability rights movement — enabled Ralph to excel in a field that was completely unknown when he was born. While others with his condition may have chosen to remain in a back room, Ralph was a powerful leader. He may have been the very first FA patient in the country with such employment.
Ralph dedicated his life to overcoming injustice, stereotyping, and discrimination; working for disability rights; providing leadership at the University of California; enjoying wilderness areas — particularly Yosemite National Park; traveling widely; and proving that a man who used a wheelchair could excel and be productive in the workplace and as an athlete, and also live a happy life. This site contains numerous fascinating memories about this most remarkable man.
Friedreich's Ataxia
Although Ralph overcame its limitations to a remarkable degree, Friedreich's ataxia (FA) shaped his life in fundamental ways, so an understanding of FA is necessary to understand Ralph. FA is a debilitating, life-shortening, degenerative neuro-muscular disorder. Onset of symptoms can vary from childhood to adulthood and can include muscle weakness and loss of coordination in the arms and legs; impairment of vision, hearing and speech; aggressive scoliosis (curvature of the spine); diabetes, and a serious heart condition. The progressive loss of coordination and muscle strength leads to motor incapacitation and the full-time use of a wheelchair. Childhood onset of FA is usually between the ages of 5 and 15 and tends to be associated with a more rapid progression. There is currently no treatment or cure.
Much more information about FA can be found in this Friedreich's ataxia fact sheet by the National Institute of Neurological Disorders and Stroke and this Wikipedia article.
Work
Ralph really enjoyed working as a computer programmer since he could be creative and productive at the same time. He not only transcended his physical limitations but also used them as a motivation to clever advances in his work. As one coworker relates: "I discovered that Ralph was ingeniously creating reusable macros which he could use to diminish greatly the number of keys he had to type, since his disability made such activity problematic. I adopted some of his techniques for my own work since they made a lot of sense even for my more functional fingers!" You can read more of these recollections here.
Ralph's later interests combined his love of libraries and his commitment to access for people with disabilities. He served on library committees with other disability activists to ensure that the Berkeley Public Library was completely wheelchair accessible. He also contributed to improving access during renovations of the Doe Library at the University of California, Berkeley. Throughout his lifetime, he was part of the University of California community, and besides his library interests, he continued to work out at the Recreational Sports Facility until the week he died.
Ralph performed and completed mountains of sustained work in his life — for the University of California both as employee and volunteer, on committees, and in other capacities as a disability rights advocate. Every action was sustained work for Ralph, and that sustained work and overcoming the greatest opposition one can ever know, the opposition of Ralph's own body, made him smart and fearless.
Ralph was a powerful man — a complex, thoughtful, innovative colleague at the University of California!
Life, Passion, and Compassion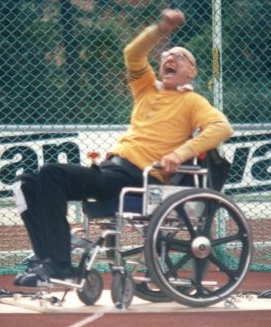 Ralph was born on 27 May 1942 in New York City. He grew up in the Fordham Road section of the Bronx. As a child, he frequently visited the Bronx Zoo, sometimes slipping in by climbing over the fence. Ralph and his brother — who also suffered from FA — became symptomatic between the ages of 10 and 13. They were working in the family grocery store and their uncle told their parents that both Ralph and Pat were always falling, and that it wasn't normal. Because of the absence of awareness of Ataxias and FA in the 1950s, no doctors could diagnose them. Ralph went through a series of treatments including hormone treatments in an attempt to treat him. It was not until Ralph was 18, with the growing awareness of Ataxia, that he was correctly diagnosed.
Despite his illness, Ralph attended Our Lady of Mt. Carmel Grammar School, where he was once given bad marks for not sitting sufficiently attentively, but nonetheless he graduated in 1956. He then attended Cardinal Hayes High, also in the Bronx, and graduated in 1960. He began college at Iona College in New Rochelle, New York, but then quit to work first at the Otis Elevator Company and then at the Fordham Hospital back in the Bronx. Eventually he returned to college at the New York City Community College, from which he graduated in 1975.
Shortly thereafter, he headed west to Berkeley, California, where he attended the University of California. He graduated from the Computer Technologies Program (CTP) in Berkeley; CTP is a training program affiliated with the Association of Rehabilitation Programs in Computer Technology and supported by the Center for Independent Living. He subsequently worked for the University of California until FA forced his retirement. The last thing he did before he went into the hospital where he died was to go to the California Palace of the Legion of Honor. His final hospitalization was due to a terrible infection in his pleural cavity. It was caused by a bacterium that is normally found in the lung, but in Ralph — as is common in those who cannot breathe deeply like those who use wheelchairs or those with advanced FA — it progressed aggressively. Ultimately the infection lead to cardiac complications, and Ralph finally succumbed on 16 March 2002.
Like others with Friedreich's Ataxia, Ralph was otherwise completely normal regarding all other other functions. Most conspicuously, Ralph was well-known among his friends as the Man Who Loved Women. Never having had any sisters, he wasn't jaded about women. Rather, he loved and was fascinated by them. He exuded a powerful complexity and thoughtfulness that drew women.
Despite the fact that he used a wheelchair from the time he was 31, Ralph never looked for sympathy — just the opposite. He consistently helped others instead. He gave toys to children who were not his own. When he rolled down Shattuck Ave. in Berkeley he allowed many homeless people to simply go into his wallet and take out the golden dollars there. Ralph had profound ethics. Ralph tried to be there for anyone who needed him — to be in their corner, and he listened to anyone's difficulties, sometimes depriving himself to help them. . He wore a Santa Claus hat during the holidays and gave many people gifts. He was generous with a helping hand when people needed help to pay their rent or start a business or fix their car.
He tried always to give new people a chance. He also gave fledgling businesses a chance, lending his support to such businesses as Open Sesame, which builds and installs remote door openers. Ralph had an Open Sesame door opener on the door to his apartment to make it easy for him to welcome friends and guests. At the end he would sit and listen to visitors' problems even when he could no longer speak himself because his Friedreich's Ataxia had progressed to that point.
He was a quiet, thoughtful, and witty man. He is missed for his extraordinary sense of humor and his love for costumes, especially Punchinello, the theater, and movies. On Halloween he wore Commedia Del Arte masks and a costume as he rolled down Shattuck Avenue in Berkeley, going to the bank, to help someone, to restaurants, cafes and the Library. He would carry a pole with a skull or a pumpkin with flashing lights. Check out these photos from Commedia Del Arte (click on the thumbnails for larger versions):
Ralph was profoundly intelligent, healing, ethical, and trusting. He was well known in Berkeley for his generous and loving nature, especially with children.
Ralph showed his thoughtfulness in many ways like bringing home dinners to homeless people whom he allowed to stay with him for awhile. But one of the demonstrations of his thoughtfulness was Ralph's unwillingness to complain or talk about bad experiences he had had in the past. Whereas most people told Ralph all of their problems and recounted their bad experiences or bad luck, Ralph was the absorbed listener, the ear, with all intentions of helping. And when Ralph did speak, it was to invite people river rafting or to talk about whales and whale watches, going to Yosemite and plants he noticed in Berkeley as he rolled around. And if there was ever a man who never talked about his own "bad luck" it was Ralph, who had inherited the genes for one of the most awful diseases anyone can ever have.
He loved travel and never feared obstacles although he encountered some. He always "got out there and did things" whether it was traveling, meeting new people, working. He leveled the playing field for hundreds if not thousands.
Ralph used to say that he grew up in the Bronx Zoo, and he loved seeing animals in the Rockies, in Alaska, or in the Sierras. He gave generously to the World Wildlife Fund and Defenders of Wildlife. Ralph loved all wildlife especially wolves and bears. He was cheered when raccoons came to his apartment front door. (Click on thumbnails for a larger version.)
That said, Ralph was also someone who did not suffer fools lightly. He could and did occasionally get mad enough to run his wheelchair into people deliberately if they provoked him sufficiently. He was no saint, and he asked for no more quarter than he granted. For instance, one day in the 1970s, he went into an auto store where the interior design of the store was such that his wheelchair did not fit through the checkout counter. Outraged at being unable to pass, he demolished the checkout counter with his wheelchair.
Disability Rights Actions
Ralph turned his frustration with barriers to access into legal actions for disability rights. Once in the 1990s in Berkeley, Ralph rode the 65 bus to West Berkeley. When he was ready to go home, the 65 bus arrived, but the driver said the wheelchair lift was broken and told Ralph to wait for the next 65 bus. When the next 65 bus came its lift also was broken. Ralph then waited another 30 minutes for the next bus...which also had a broken lift. At this point, Ralph grabbed the handles of the doors of that bus with his powerful arms and would not let go until they got him a bus with a working lift. Not content merely to get home eventually that night, Ralph set about to change the bus system. Eventually, under pressure, AC Transit bought a fleet of buses with floors level with the curb and lifts with few moving parts that don't break as easily.
Sometimes the cause of accessibility is advanced through legal action. In 1997, Ralph filed a lawsuit against a restaurant that failed to comply with the accessibility provisions of the Americans with Disabilities Act. To the surprise of no one who familiar with Ralph's logical and methodical mind, he won. His case, Boemio v. Love's Restaurant, can be read in full in Hotel, Restaurant, and Travel Law: a Preventive Approach, sixth edition, by Norman G. Cournoyer, Anthony G. Marshall, Karen L. Morris: Thomson, Delmar Learning, c2004, p. 61-63. Ralph also won another case filed against a restaurant that failed to comply with the ADA: Bomeo [sic] vs. Twin Management. [this case can be reviewed at Alameda Country Courthouse, Oakland, California: Case C-640217] Ralph did not win in another case in which he tried to follow-up on the preceding case for their continued failure to comply with the ADA: Boemio vs. Carl Karcher Enterprises. [this case can be reviewed at Alameda County Courthouse, Oakland, California: Case C-710930]. Ralph was involved in another case when he died; this case was against a theater for not complying with the ADA: Pachovas vs. Landmark Theatre Corp. [this case can also be reviewed at Alameda County Courthouse, Oakland, California: Case C-800182]
Ralph worked with the Metropolitan Transportation Commission Committee on Transportation and Mobility in Oakland to obtain safe pedestrian access across the railroad tracks at Jack London Square. He collaborated with Heidi Manfroi, who had found a case in which the wheelchair of a man in Southern California had gotten caught in the railroad tracks, and he had been dragged to his death by a train that couldn't stop in time. With Ms. Manfoi's case before the the Committee, the crossing was paved to give safe crossing for children, baby carriages, seniors, and for wheelchairs. As one compatriot from these battles said of Ralph: "Sometimes the cause of accessibility is advanced through committee work. This slow, painstaking group work leads to good outcomes. Ralph served on several committees such as the committee to make the Berkeley Public Library accessible."
He was determined to be a man of action and to overcome stereotypes. A friend, Sal, said that in the 1960s in the Bronx, NYC, where they both grew up, he used to go to the sand lot to practice hitting in baseball. Sal would see an older man — maybe 20 — practicing hitting the baseball. He would think what's that old guy doing here? Ralph was five years older than Sal Orso. So when Sal was 15 and Ralph 20, Ralph couldn't keep up with a 15 year old, but Ralph wanted to be in baseball hitting practice. When Ralph stood up and swung the bat, he would fall over on the ground but then would get up, wait for another pitch, fall over, and get up again and wait for another pitch until he hit the ball. Young kids would say, "Hey get out of the way! We want to practice!", but older people let Ralph hit. Every time he swung, Ralph fell down, and some kids said "Come on get this guy out of here", but others said, "No, let him play!" Ralph would take the embarrassment and get up and try again. "Who is this brave kid?" Sal Orso asked himself. Sal said that "Ralph wanted the opportunity to get to play and be with everybody else. He came every week. It was that kind of determination, dedication and action that enabled Ralph to be the great computer programmer and great sportsman and athlete he was. Sal says he remembered and respected Ralph more than any other hitter in that sandlot.
Sports
Ralph was an Olympic athlete involved in disability sports, and a champion in so many ways. For years he worked out 3 times a week, and he was regularly pumping 70 pounds of iron as late as the summer before he died. He felt so much better exercising.
Ralph worked out at the UCB Recreation Sports Facility, and the Director of the CalSTAR Program and the Director of the Recreation Sports Facility sponsored Ralph as a member. In fact, Ralph was sponsored by the CalSTAR Program during his victories at the 1984 ParaOlympics, and he worked out in the CalSTAR yoga class until the week he died.
All his hard training made him remarkably successful in the many competitions he entered. Take a look at his amazing results!
Adventures and Explorations
Ralph led an exciting life of travel and adventure. See photos of his remarkable activities.
Friends
Ralph was esteemed by all who met him. Read more about how his friends remember him.